End of July is near. Someone asked when I was writing my next running blog. I don't have a definitive answer. Hard to write a positive running blog when I'm an injured, disgruntled runner.
I am still not back to running. Heck, I'm still not even able to walk unassisted yet so that's where my disgruntlement is coming from. Hoping for good news in two weeks. Summer is slipping by. I had high hopes in the spring to be totally back to my running self by this summer, but that fell through. I guess I'm hoping by fall to be running again, just in time for winter. Oh yay. Freezing cold, winter months where it takes longer to layer and unlayer than it takes to do my run. Here I am being grumpy again. It could be worse. I could have to wait longer than the fall.
I am sporting a fancy cane now. My hunka hunka calls me Planters Mr. Peanut. He said I just need a top hat and a monocle. I feel pretty dapper with my cane.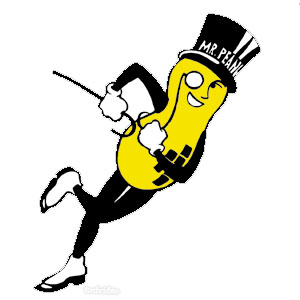 I hope the weather is still warm enough to wear sandals when I am released by the doctor. I love my tennis shoes and jeans. I'm most happy in them. However, I have worn nothing but that for four months straight. Look out when I am released. I will not be wearing shoes at all. I think I'll go to work barefoot. My manager already told me shoes were not required on my floor. Hello, pretty toes. Maybe I should get a pedicure to celebrate.
Hope you're patient with me until my next running blog, as I'm trying to be patient with myself. Trust me…I'm NOT a patient patient. My poor Hunka Hunka.
Peace out, Trout!